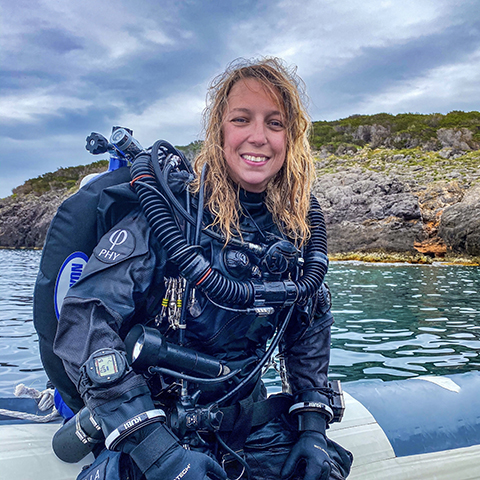 Stella Del Curto
CMAS Instructor I2
I'm Stella Del Curto, born in Locarno, Switzerland, the 27 December 1983.

Since I was a child I have always loved being in contact with water and with sea, falling in love with this element.

I also always loved taking pictures but photography has become a great part of my life starting from 2005, when I bought my first DSLR camera. Two years later, in March 2007 I had the time of my life and I started my diving experience in the cold waters of the Lake Maggiore. Merge these two big passions has been a natural evolution, and I have always worked for become a better diver and a better photographer, refining my skills and becoming a diving instructor.

I love share my passion and tell stories through my images, making visible to everyone the stunning creations that our Mother Nature has hidden underwater and sometime even underground: with this goal in mind I explore all the places below the surface: sea, cave, river, lake... doesn't matter where, if there is water there I am.

I do like the outdoors, the adventure and discover every day something new in our world. When I'm not underwater I can be found somewhere else outdoor for running, hiking or snowboarding.
Diving Qualifications
Diving Experience
Instructor CMAS I2
Instructor CMAS Trimix Normoxic
Instructor CMAS Cave 2
Instructor CMAS Technical Skills
Instructor CMAS Nitrox Advanced
Instructor CMAS Wreck 1
Instructor CMAS Photosub 2
Instructor CMAS Children

GUE Cave 2
GUE Tech 2

CMAS JJ CCR Advanced Trimix Diver
CMAS JJ CCR Cave
CMAS Scooter Diver 3
1600+ Dives
400+ Trimix Dives
300+ Cave Dives