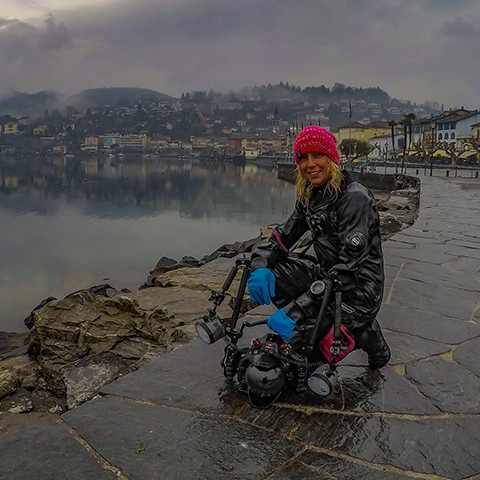 Stella Del Curto
CMAS Instructor I2
I'm Stella Del Curto, born in Locarno, Switzerland, the 27 December 1983.
Since I was a child I have always loved being in contact with water and with sea, in the long hot summers spent in Abruzzo with my Grandparents. I learned swimming and snorkeling self taught, and despite the underwater environment in the Adriatic was composed only by sand and few tiny fishes and crabs, in my imagination I were able to transform them in super cool sighting, dreaming that one day they will come true.
I also always loved taking pictures but photography has become a great part of my life starting from 2005, when I bought my first DSLR camera. Two years later, in March 2007 I had the time of my life and I started my diving experience in the cold waters of the Lake Maggiore. Merge these two big passions has been a natural evolution, and I have always worked for become a better diver and a better photographer, refining my skills and becoming a diving instructor.
I love share my passion and tell stories through my images, making visible to everyone the stunning creations that our Mother Nature has hidden underwater and sometime even underground: with this goal in mind I explore all the places below the surface: sea, cave, river, lake... doesn't matter where, if there is water there I am.
I do like the outdoors, the adventure and discover every day something new in our world. When I'm not underwater I can be found somewhere else outdoor for running, hiking or snowboarding.
Diving Qualifications
Diving Experience
Instructor CMAS I2
Instructor CMAS Trimix Normoxic
Instructor CMAS Technical Skills
Instructor CMAS Nitrox Advanced
Instructor CMAS Photosub 2
Instructor CMAS Children

GUE Cave 2
GUE Tech 2
1300+ Dives
300+ Trimix Dives
200+ Cave Dives